Friday, July 19, 2019

Related Links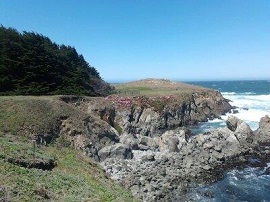 SMALL CLAIMS COURT CLERK'S OFFICE INFORMATION
Office Hours:
8:30am-3:00pm Monday through Friday, excluding judicial holidays
Telephone hours:
8:30am-1:00pm, Monday through Friday, excluding judicial holidays
| | | |
| --- | --- | --- |
| | Ukiah | Fort Bragg |
| | Phone: (707) 468-2002 | Phone: (707) 964-3192 |
| | Fax: (707) 463-6850 | Fax: (707) 961-2611 |
Small Claims Court is available at both locations.
YOUR SMALL CLAIMS CASE
A case may be filed in Small Claims Court if the amount being sought is $5,000 or less; $10,000 or less for quot;natural persons" (CCP §116.221). Only two cases above $2,500 may be filed each year (CCP §116.231).
An attorney is not allowed to represent you in court. Resources for learning to present your own case are noted below in the Resources and Assistance section.
On-Line Case Calendar
View the next 30 days of hearings on calendar:
Ten Mile (Fort Bragg) Branch Calendar
Calendar times and places are subject to change at any time. On the day of the hearing, check the calendars posted on the calendar bulletin board for that day's court assignments.
Jurisdiction
Code of Civil Procedure states what actions can be filed in small claims court. One or more of the following must be true in order to file your small claims action in Mendocino County:
A defendant lives in this judicial district, or if the defendant is a business that has its principal place of business in this judicial district.
A person was injured or personal property was damaged in this judicial district
A defendant signed or entered into a contract in this judicial district, a defendant lived in this judicial district when the contract was entered into a contract or obligation was performed in this judicial district, or if the defendant is a corporation, the contract was breached in this judicial district.
When a signed contract is involved see

CCP §395(B)

, CCP §1812.10, and CCP §2984.4
Forms and Filing
A Forms Packet, Information for the Small Claims Plaintiff, complete with Claim Form, is available from the court clerk's office.
Forms may be found on our Forms and Filing section on our website, picked up in the clerk's office, photocopied or printed at the Law Library, or downloaded from the Judicial Council website.
All paperwork must be typewritten or nearly written in black ink. There are typewriters available for public use at the Public Library at 105 North Main Street in Ukiah, or the Law Library in the Ukiah Courthouse, Room 107. Public access computers available for filling out legal forms in the SHLA center, Room 304 of the Ukiah Courthouse.
By law, the clerks cannot provide legal advice, including which forms to use.
Fees
The Filing Fee is based on the amount of the claim:
Up to $1,500, the fee is $30.00
$1,500.01 to $5,000.00, the fee is $50.00
$5,000.01 to $10,000.00, the fee is $75.00
If you have filed more than 12 claims in the past year, the filing fee is $100.00 per claim.
COPIES OF COURT DOCUMENTS
Requests for copies or certified copies of a document may be made in person at the Clerk's Office or submitted in writing by mail. We cannot take requests over the phone. Various copy, search, and certification fees may apply.
Please see the Copies and Certified Copies page for more information.
VIEWING CASE FILES
Cáse files are available for viewing by the public at the Clerk's Offices in both branches. You will need to provide the case number for the file(s) to be retrieved for viewing to avoid a Record Search fee. Files generally will be available for viewing on the next business day after the request for the file is made.
Please see the Viewing a File page for more information.
Service of Documents
The date and time of the small claims hearing is set when the plaintiff files the small claims case. It is the plaintiff's responsibility to serve the defendant with the Plaintiff's Claim and Order to Go to Small Claims Court that includes this court date.
Effective September 1, 2009, the option of service of the claim by return receipt (certified mail) will no longer be provided.
Postponing your hearing
If the defendant has been served, either party can file with the Court a Request to Postpone Small Claims Hearing (Judicial Council Form SC-110) and an Order on Request to Postpone Small Claims Hearings (SC-111) to continue the matter, along with a $10.00 filing fee at least 10 days before the hearing.
Night Court
Night Court for Small Claims cases is held at 5:30pm on the first Wednesday of each month in Ukiah.
Parties must use the Perkins Street entrance of the Ukiah Courthouse after 4:30pm. The Perkins Street entrance will be locked at 5:30pm. Please arrive 5 to 10 minutes early.
Resources and Assistance
See the Law Library for reference books about Small Claims. Open to the public in the Ukiah courthouse, resources are available for all levels of legal research.
See the California Small Claims Courts Information Center for on-line resources, including Detailed Information and How to collect on a judgment
The California State Department of Consumer Affairs offers small claims information on their website
Corporation records: http://kepler.ss.ca.gov/list.html
Fictitious Business Names: Mendocino County Assessor-Clerk-Recorder's Office
Small Claims Advisor
The Self Help Legal Access Center (SHLA Center) provides direct in-person service regarding all aspects of small claims proceedings. Visit the SHLA Center in the Ukiah Courthouse Monday-Thursday from 1:00pm to 4:00pm, or in Fort Bragg at one of their Friday clinics.
For pre-recorded information, you may contact the Small Claims Division 24 hours a day at (707) 468-2002
Small Claims Mediation
The Court is currently undertaking a pilot project to mediate small claims cases at no cost to litigants. You may be asked whether you would like to volunteer to have your case mediated; or the judge may require you to try to settle your case through mediation before you can have a hearing.
CALENDAR PLAN
Small Claims cases are heard in both Ukiah and Fort Bragg according to the schedule below. The location of hearings for the Ukiah Small Claims calendar varies - check the calendar posted on the first floor of the Ukiah courthouse on the morning of the hearing for the location.
| | | | |
| --- | --- | --- | --- |
| Calendar Type | Day | Time | Court |
| Ukiah Small Claims | Every Thursday | 9:00am | Ukiah (TBA) |
| Ukiah Small Claims Night Court | 1st Wednesday | 5:30pm | Ukiah A |
| Fort Bragg Small Claims | 1st & 3rd Thursdays | 1:30pm | Ten Mile |