Sunday, April 21, 2019

ADA / Access to the Court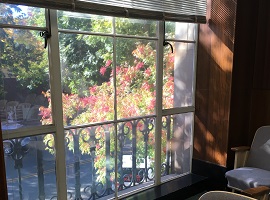 PHYSICAL ACCOMODATIONS
If you have business with the Court and need accommodations for access, or an assisted-listening device, please contact the clerk at the branch you will be visiting to make arrangements at your earliest convenience. (See contact information at the bottom of the page.)
Some accommodations may need advance notice. In some cases, the clerk may need to refer you to the Department's ADA Access Coordinator.
COURTROOMS WITH REDUCED ACCESS
Courtroom C (Family Law and Family Support), Courtroom F (Juvenile), and Courtroom G (Traffic, Limited Civil, Small Claims, and Probate) in the Ukiah courthouse cannot be reached by elevator; these courtrooms can only be accessed by using the stairs.
HOW TO REQUEST AN ACCOMODATION
Request for Accommodations are made by completing the following form:
MC-410 Request for Accommodations by Persons with Disabilities and Response
Completed forms may be delivered to the Court or faxed to the appropriate branch and department. (See contact information below.)
Please note that although the court will accept form MC-410 Request for Accomodations via fax, no other documents may be filed by fax.
HOW TO CONTACT THE COURT
Fort Bragg
| | | |
| --- | --- | --- |
| Phone | Fax | Department |
| (707)964-3192 | (707) 961-2611 | All Departments |
Ukiah
| | | |
| --- | --- | --- |
| Phone | Fax | Department |
| (707) 463-4661 | (707) 463-4655 | Criminal / Traffic |
| (707) 468-2001 | (707) 463-6850 | Civil / Family Law / Juvenile |
| (707) 463-4664 | (707) 468-3459 | Administration |