Monday, October 23, 2017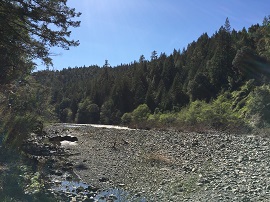 The SHLA Center provides eligible self-represented persons free assistance and access to legal information about the process to establish a probate guardianship over a child. The Center assists individuals to prepare their own legal forms and understand court procedures.
Appointments are required for assistance and must be made in person. Please stop by the Self Help Center in the Ukiah Courthouse, Room 304, during our regular hours (Monday, Tuesday and Thursday 1:00pm-3:00pm, and on Wednesdays from 1:00 to 4:00pm) to set the appointment and pick up an Intake form. The Intake form is required to be completed before your appointment.
Should you need a new copy of the Intake form, you may download it here:
Guardianship Program Intake Form
Why Guardianship?
In general, a probate guardianship of a child is set up because a child is living with an adult who is not the child's parent and the adult may need a court order to make decisions on behalf of the child.
What is a probate guardianship over a minor?
Generally, a probate guardianship is a case brought by a person asking the court to appoint them guardian. Guardianship is a custody arrangement approved by the court: a non-parent is given parental rights and responsibilities over a minor. A guardianship does not terminate parental rights.
Is probate guardianship always necessary?
No. The Self Help Center / Guardianship Program can provide you general information about alternatives to a guardianship so that you can make your own informed decisions.
What we can do for you
The SHLA Center Guardianship Program staff does not give legal advice such as one would obtain from private counsel. There is no confidential attorney-client relationship between attorneys of the Self Help Center and the self-represented person (litigant) seeking legal information. The staff will provide information about procedures, substantive law, and choices litigants may need, thereby allowing them to make informed decisions about their cases. Staff can also assist litigants in completing their legal forms.