Wednesday, January 15, 2020




child support (title iv-d)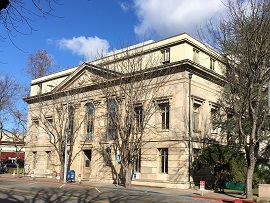 FAMILY COURT CLERK'S OFFICE INFORMATION
Office Hours:
8:30am-3:00pm Monday through Friday, excluding judicial holidays
Telephone hours:
8:30am-1:00pm, Monday through Friday, excluding judicial holidays
| | | |
| --- | --- | --- |
| | Ukiah | Fort Bragg |
| | Phone: (707) 468-2001 | Phone: (707) 964-3192 |
Confidentiality Notice
Child Support cases are usually confidential. The Clerk's Office can provide information in person, however, in most circumstances you must be a party in the case in order to receive case information. ID may be required to receive information.
On-Line Case Calendar
View the next 30 days of hearings on calendar:
Courtroom C Calendar
MORE>>
For specific assignments, contact the court clerk. In Ukiah, see the calendar bulletin board on the first level for that day's court assignment. Calendar times and places are subject to change at any time.
COPIES OF COURT DOCUMENTS
Requests for a copies or certified copies of a document may be made in person at the Clerk's Office or submitted in writing by mail. We cannot take requests over the phone. Various copy, search, and certification fees may apply.
Please see the Copies and Certified Copies page for more information.
VIEWING CASE FILES
Cáse files are available for viewing by the public at the Clerk's Offices in both branches. You will need to provide the case number for the file(s) to be retrieved for viewing to avoid a Record Search fee. Files generally will be available for viewing on the next business day after the request for the file is made.
Please see the Viewing a File page for more information.