Wednesday, January 15, 2020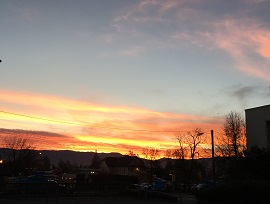 TRAFFIC CLERK'S OFFICE INFORMATION
Office Hours:
8:30am-3:00pm Monday through Friday, excluding judicial holidays
Telephone hours:
8:30am-4:00pm, Monday through Friday, excluding judicial holidays
| | | |
| --- | --- | --- |
| | Ukiah | Fort Bragg |
| | Phone: (707) 463-4660 | Phone: (707) 964-3192 |
Phone Payment Hours: Pay your citation by phone 24 hours per day at (707)463-6872.
COURTESY NOTICE AND OPTIONS TO RESOLVE YOUR CITATION
After receiving a traffic or other infraction citation, the court will mail a courtesy notice to the address on your citation. If your address is incorrect on the citation, please contact the court as soon as possible. The courtesy notice will tell you how much you owe, the due date of the payment, and other options you may have to resolve your citation. These options may include:
Attending traffic violator school to keep the traffic violation off your public driving record
Correcting mechanical violations (taillights, headlights, mirrors) for a reduced fine amount
Correcting violations related to your driver's license, auto registration and auto insurance for a reduced fine amount
Seeking a reduction in the fine amount from the court based on your inability to pay the fine
Requesting community service (volunteer work) instead of paying a fine
The courtesy notice will also tell you whether you were cited for a violation that requires you to appear before a judge.
Courtesy notices are not processed immediately after you receive the citation. Do not call the court about your citation until it is two weeks or less from the due date on your citation. The court is unable to provide information about your case until your citation has been processed.
If you do not receive a courtesy notice, you must still appear at the clerk's office or settle your case by mail by the date and time as listed on your citation. Please contact the court on or before the due date if you have not received a courtesy notice.
Appearance Date / Due Date
The date written on the bottom of the citation is the due date of your citation. If you receive a courtesy notice with a date later than the one on your citation, the date on your courtesy notice is the revised due date. It is important that you take action by this date in order to prevent additional fees and penalties from being imposed by the court and the Department of Motor Vehicles.
Mandatory Appearance
If the violation on your citation requires you to appear in court, your courtesy notice will state "Mandatory Appearance." Your citation or courtesy notice will have the date, time, and location of appearance. You must appear in person on the date and time specified at the location printed on the citation or courtesy notice. Failure to appear in court when ordered to do so may result in increased fines, penalties, and suspension of your driving privileges.