Wednesday, January 15, 2020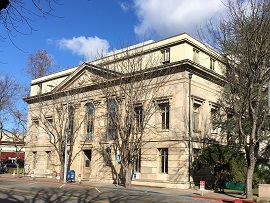 TRAFFIC CLERK'S OFFICE INFORMATION
Office Hours:
8:30am-3:00pm Monday through Friday, excluding judicial holidays
Telephone hours:
8:30am-4:00pm, Monday through Friday, excluding judicial holidays
| | | |
| --- | --- | --- |
| | Ukiah | Fort Bragg |
| | Phone: (707) 463-4660 | Phone: (707) 964-3192 |
Phone Payment Hours: Pay your citation by phone 24 hours per day at (707)463-6872.
FINE PAYMENT OPTIONS
You may choose to pay your fine (sometimes called 'bail') in person, by mail, on this website or over the phone with a credit card.
Pay by Phone or Internet: Call (707) 463-6872 or Click here to pay by MasterCard or Visa using the court's automated phone service. The Court will need your case number, date of birth, and daytime phone number.
Please note: When paying by credit card, a convenience fee automatically added to the amount you enter as your payment.
Pay by Mail: Pay by check or money order only. Write your docket or citation number on your check or money order, and mail your payment to:
Mendocino County Superior Court
Attn: Payment Processing Division
700 South Franklin Street
Fort Bragg, CA 95437
Pay in Person: Stop by either branch in Ukiah or Fort Bragg to pay with cash, check, money order, debit card, MasterCard, or Visa.
Pay by Installment Plan: If you cannot afford to pay the entire fine by the due date, you may request to pay your fine in monthly installments. Advise the court that you would like to do this and the court will refer your citation to the Mendocino County Collections Department. The Collections Department will contact you by mail to set up your payment plan or you can contact that office at:
Mendocino County Collections Department
501 Low Gap Road
Ukiah, CA 95482
(707)234-6850
TRAFFIC VIOLATOR SCHOOL
If your courtesy notice indicates that you are eligible to attend traffic violator school and you decide to do this, please add a $54 state-mandated traffic violator school administrative fee to the amount of your total fine. Please see our Traffic Violator School page for more information on the benefits, your eligibility, and the process to complete traffic violator school.
Extensions
You may obtain one 90-day extension to pay your citation by mailing your request, or by phone or in person at the court. However, you must request the extension before the due date on your citation. Extensions are not allowed once the due date has passed. Also, extensions are not allowed on citations that require you to make a a mandatory court appearance.
CONFIRM WE RECEIVED YOUR PAYMENT
Payments are posted to cases throughout the day and are received from various sources. If your case number is listed, we have received and posted your payment.
Payments Received in Last 30 Days
Past Due Fines/Bail
Once the due date on your citation has passed, the court will notify you that your case is being referred to Collections. You must work with the Mendocino County Collections Department to resolve your citation. You may contact their office at (707)234-6850.
REQUEST FOR ABILITY TO PAY DETERMINATION
If you receive public benefits or do not have enough income to pay for your household's basic needs, you may ask the court to consider reducing your fine. You must complete form MTR-180 Declaration and Request for Relief on Infraction Matter before the Court will consider any request for reduction of your infraction fine.
MTR-180 Declaration and Request for Relief on Infraction Matter